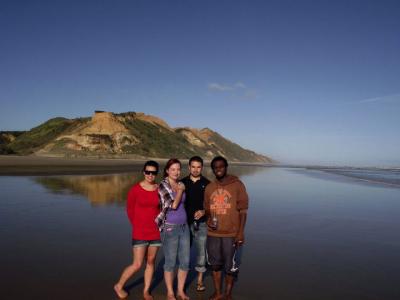 Jess is studying social work at Massey University in Auckland
"I'm originally from Stoke–on-Trent in Staffordshire, but moved to Auckland in 2011 to begin a Bachelor of Social Work at Massey's Auckland campus.
"I'm now living in a small town on the northern outskirts of Auckland called Albany, about five minutes from the university campus. My course takes up around 12 hours per week of lectures and tutorials, and I am expected to do around 30-40 hours of independent study during the week on top of that in order to meet the requirements of the papers.
"Luckily, since beginning at Massey, I have found the work relatively straightforward, so adjusting academically has not been too challenging. One of the issues I have faced with the course, however, is getting to grips with sections that require a detailed understanding of New Zealand history and its political systems. A lot of what is taught at university level about history and politics tends to skip the basics and get straight to the in-depth stuff, so I found this a bit challenging at first as a newcomer to the country.
"The university is great, a lovely picturesque campus in a small town; the buildings are simple to navigate, the staff are really friendly and the students are all keen to welcome new people. The international student population at Massey is huge, and they have a capable, patient team of international student support staff to deal with any issues which come up with settling in, visas, accommodation, insurance etc. When I arrived in Auckland, I had organised to move into one of the university's student accommodation flats, and did so a couple of days after I landed. I found out I was to be living in the biggest house in the complex (12 bedrooms!) and was unsure of what to expect. I found myself living with a whole lot of other international students (most Kiwi students at Massey tend to live at home to save on costs), but everyone was friendly and keen to explore our new surroundings.
"The student life in Auckland is really good on student nights (Wednesday) in the city centre, but going out drinking or for meals is expensive in most places. The student life at the campus is also lively, there is a bar on campus open seven days a week for worn out library-goers who need a beer after a long day's study. The clubs and societies are all run by students for students, and there are lots and lots of groups to join, for all backgrounds and interests. Lots of the activities are outdoor and/or adventure based so perfect for those keen to explore.
"I found my first year at Massey University a thoroughly enjoyable experience. I was welcomed by everyone wherever I went, found that international students are rarely treated any differently from domestic students, and the ethnic diversity in Auckland is so great that I have found myself meeting new friends from all over the world who have come to New Zealand for all sorts of reasons, but everyone seems to share the same love for the people and places over here we have visited.
"Eighteen months after moving to Auckland, I can't see myself anywhere else. I still have another two and a half years at university to complete my course, and I am so glad I chose to come to New Zealand. I am now living in a flat near the campus with my boyfriend and friends, working part-time in a bar and looking forward to beginning my fourth semester of university, wondering where all the time has gone!"
Jess felt that Study Options' support during the application process was invaluable…
"I am extremely grateful to the team at Study Options for helping me achieve my goals and succeed as an international student, and especially for all the support during the application process. It was a very stressful time organising and preparing for the big move, and the help that I got from the Study Options team was invaluable. I would encourage anybody who is interested in applying to NZ or Australian universities to use their service."