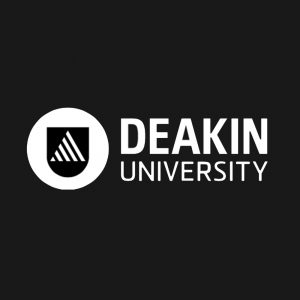 Established: 
1974
Location:  Five campuses in Burwood (Melbourne), Geelong, Warrnambool, Waurn Ponds and the Cloud.
Student Population:  57,000
CRICOS:  00113B
With world-class teaching and research, Deakin produces sought-after graduates poised to make a real difference in the world. Our teaching staff are recognised as leaders and innovators in their fields. Our courses foster real-world thinking and professionalism through close industry ties and practical study experiences.
Most importantly, our supportive and flexible approach to education including world leading online study programmes means you have the freedom to study when, where and how you like. Whether you want to stand out from the crowd, pursue new opportunities or forge your own path, Deakin can help you get there. Here are just some of our achievements so far:
Ranked in the top 1% of universities worldwide and in the top 50 universities under 50 years of age (2020 QS rankings).
Ranked 3 in the world for sports science (ARWU 2020); 29 for nursing and 32 for education (QS 2020). Other top ranked subjects include: economics and econometrics; medicine; communication and media studies; law; theology; business and management; modern languages; social sciences and management; politics; philosophy; performing arts; accounting and finance; psychology; sociology, and architecture (ARWU 2019).
Number one public university for 'overall student experience' in Australia's Commonwealth Government's Student Experience Survey (2019). Deakin is Victoria's leader in graduate satisfaction in the Australian Graduate Survey (2010–15) and Graduate Outcomes Survey QILT (2016–19).
Among the top performing Australian universities for overall employment outcomes.
Deakin has been awarded a five-star rating by QS, indicating it is world-class in a range of areas, has cutting-edge facilities and is internationally renowned for research and teaching.
Everything you need to know
Melbourne: One of the world's most liveable cities
Our largest campus is in Melbourne, voted the most liveable city in the world 2011-2017 by the Economist Intelligence Unit. And with good reason! Melbourne is a city built for exploring. Coffee shops and galleries, music and amazing food can be found down every lane and alley. There is always something happening, from cultural festivals and arts performances to sporting events.
Our Campuses
Our Burwood campus
Burwood is a leafy suburb with many parks and open spaces. This is our busiest campus, with over 30,000 students and 1,500 staff.
Our Geelong campuses
Deakin has two campuses in Geelong, an hour's drive from Melbourne (Waurn Ponds and Waterfront). Geelong is Victoria's second largest city, with great cafes, nightlife, galleries, music and easy access to surf beaches and nature. Surf beaches, whale-watching and the famous Twelve Apostles are all on your doorstep here. The two Geelong campuses boast
great outdoor areas and spacious new buildings, perfect for both studying and socialising.
Warrnambool Campus
This campus offers smaller class sizes and a friendly, close-knit community. It's set on the banks of the Hopkins River and has a vibrant on-campus student population. Warrnambool is three hour's drive west of Melbourne.
Our Cloud campus: The digital frontier
Deakin is a leader in online education and has a strong history of using cutting-edge technology to provide personalised, flexible learning experiences. Many degrees can be studied online.
Study areas at Deakin
What can you study at Deakin?
Medicine and health
Sport science and management
Law
Education
Communications, creative arts
Nursing and midwifery
Environmental science
Business and management
Engineering
International studies, humanities
Deakin is home to world-class research institutes and welcomes international research students. These institutes include:

The Institute for Frontier Materials
The Institute for Physical Activity and Nutrition
Alfred Deakin Institute
Applied Artificial Intelligence Institute (AI)
Institute for Health Transformation
Impact Institute for Mental and Physical Health and Clinical Translation
Centre for Cyber Security
Centre for Sport Research.
Sports Science and Sport Management at Deakin
Ranked 3 for sports science globally and 1 in Australia by the ARWU, Deakin offers a wide range of programmes for careers in athlete development, sport promotion, on-field performance, sponsorships and coaching, to marketing and management of sport programmes that improve health and social outcomes in communities, sports nutrition, and sport pathways.
Want to help shape the future of your favourite sports?
Bachelor of Business (Sport Management)
You'll develop the skills to manage sport organisations, coordinate sporting competitions and events, and work in community-based sport programmes. You'll learn how to manage the business side of sport, with specialised training in marketing, finance, management and law for sport. This course includes an industry placement of at least 100 hours in a host sporting organisation.
Graduate with a practical degree
Bachelor of Exercise and Sport Science
Develop the skills and expertise to become a professional leader in exercise and sport science and allied fields, studying the biology, technology, behaviour and best practices that underpin exercise and sport science. Tailor the course to your interests and goals, choosing from these majors:
Applied sport science
Disability and inclusion
Exercise physiology
Family, society and health
Health promotion
Physical activity and health
Psychology
Sport coaching
Sports nutrition
Strength and conditioning
The course provides an accredited pathway for you to be eligible to register as an accredited exercise scientist with the national accrediting body, Exercise and Sport Science Australia (ESSA). You'll learn how to apply knowledge and skills in exercise and sport science to improve the performance, health and participation of individuals, athletes and teams. The course includes 220 hours of work experience placements.
Want to make a difference to the health and wellbeing of individuals and communities through sport?
Bachelor of Sport Development
With this degree you can enter a career that's all about ensuring current and future generations experience the benefits of sport. The course will provide you with a deep understanding of sport systems, programmes and pathways, community development approaches, and the organisation, management and governance of sport organisation.
Get practical experience developing coaching programmes and sport development philosophies, discover what it takes to prepare individuals and teams for sport, harness sport's capacity to bring people together in times of need, and learn how sport can be used as a powerful tool to rebuild and re-energise communities which may have suffered inequality or social challenges. These are skills that will be especially sought-after in a post-COVID-19 landscape. Your studies will be enriched by real-world experience. The course includes 200+ hours of work placements.
Become an expert in elite athlete preparation
Bachelor of Exercise and Sport Science/Bachelor of Nutrition Science
This combined course allows you to study two complementary fields and understand how the whole athlete works, as well as the fuel required to enable them to perform at their best. The nutrition science component of this course gives you an understanding of the nature of food and the importance of nutrition for individual and population health. Open the door to a wide range of career opportunities when you combine a drive for exercise and sport with a passion for food and nutrition.
The course includes a minimum of 220 hours of practical experience and gives you the opportunity to benefit from career mentoring, setting you apart from other graduates.
Learn the science of elite performance and influence the business of sport
Bachelor of Exercise and Sport Management/Bachelor of Business (Sport Management)
Experience the synergy between sport science and the business of sport with this combined course. Learn to apply exercise and sport science principles to improve the performance, health and participation of individuals, athletes and teams, while gaining unique knowledge and skills in managing organisations that support sports and events.
As well as classroom-based learning, you will undertake at least 220 hours of fieldwork experience in real-world settings through the Exercise Programming and Exercise and Sports Practicum modules, plus 100 or more hours with a host sporting organisation in the Sport Management Practicum unit.
This extensive practical experience gives you the expertise to pursue opportunities varying from traditional sport, exercise and coaching occupations, to sports administration, management, governance and development roles.
Postgraduate programmes include:
Master of Applied Sport Science
This prepares you for both the technical and managerial aspects of high performance sport.
Master of Business (Sport Management)
This course develops business and leadership skills to effectively manage sport organisations – in areas such as marketing and promotions, governance and management, facilities and events, as well as participation development
Executive Master of Sport Business
Learn the intricacies of forming and maintaining strong and impactful relationships with clubs and member associations, sponsors, broadcasters, governments, athletes, coaches, and members. The course is designed to provide the relevant and context-specific information and tools you'll need to make those tough calls and inspire your employees to strive for greatness in your chosen area of sport.
Why sport at Deakin?
Study in state-of-the-art sport facilities – Deakin is home to an elite sports precinct, professional equipment and labs that provide authentic training environments.
Graduate job-ready with 200 hours of industry experience – get
a taste of your future career on placement and work on development programmes alongside established professionals.
Leverage our industry partnerships to secure exciting internships – we have a network of over 150 industry connections, including the Geelong Cats, Netball Australia, Nike Australia, AFL/VFL football clubs, Football Federation Victoria, Tennis Australia, WNBL clubs, the Melbourne Boomers and Cricket Victoria.
Go on an international study tour – join our sport academics on a tour and connect with global organisations like the Indian Premier League.