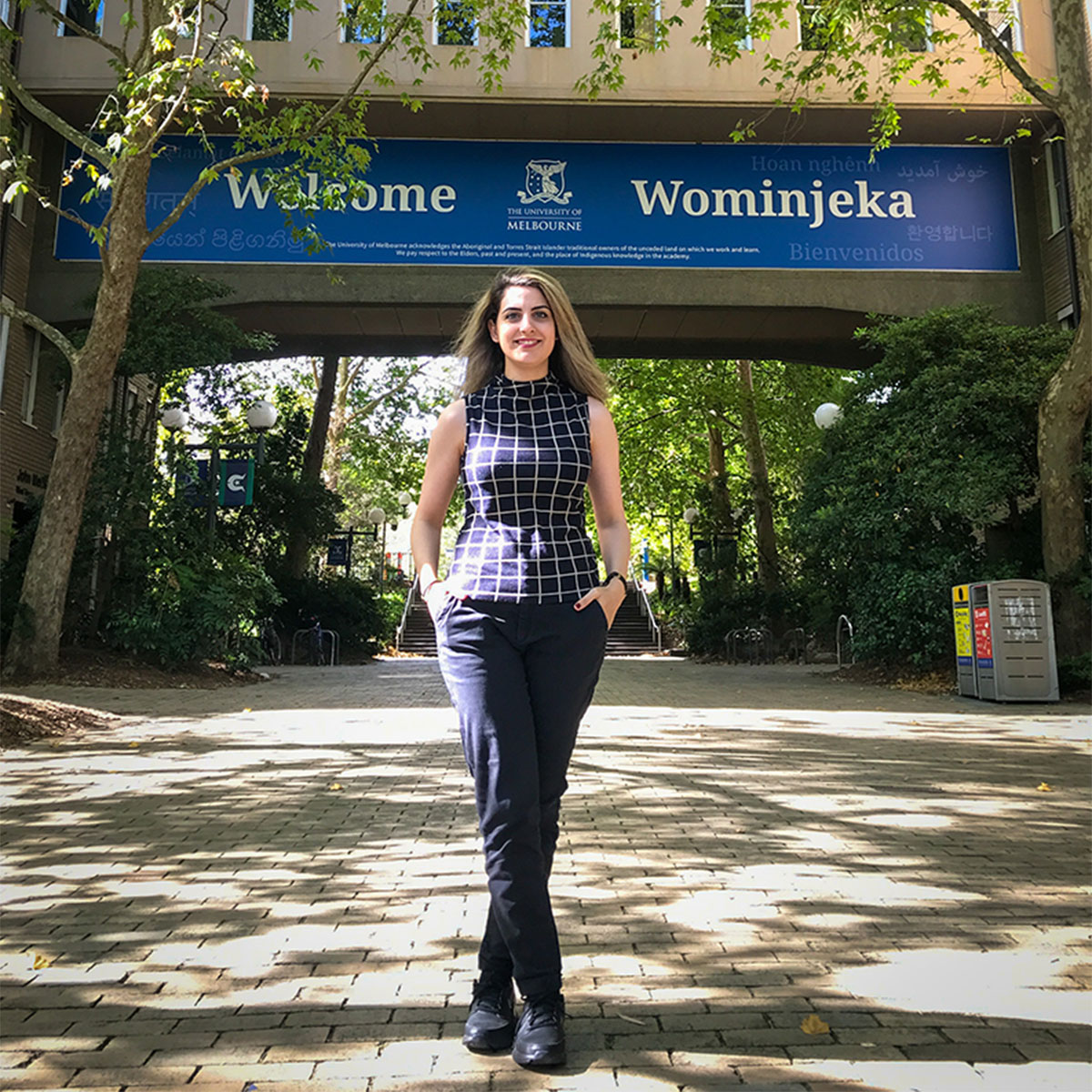 Sara Javadian is studying a PhD in the Graduate School of Education at the University of Melbourne
"I have come a long way to reach here! From Iran to the UK, and from there to Australia. I got my bachelors in clinical psychology and masters in clinical child and adolescent psychology from one of the best universities in Iran, Shahid Beheshti University. My older sister moved to Australia to study her masters and talked about the high quality of education, research support, and collegial atmosphere at the University, which motivated me to pursue my Ph.D. there. Getting an offer with a scholarship in my field, however, was a whole other ball game!
"I already knew what I would like to conduct my research on, co-designing and delivering mindfulness-based art therapy for improving the psycho-social wellbeing of children with immigrant and refugee backgrounds.
"I introduced my own research proposal based on my interest and experience. It might be easier to join an existing project and there might be more scholarship opportunities, but I was passionate to research this topic. I found potential supervisors with similar research interests and contacted each one of them. I received responses from several supervisors, and I finally applied to a few universities. I, however, either didn't receive an offer or a scholarship. I decided to study a second masters in the UK to improve my resume and accepted a place to study a masters in child development at UCL. My master's experience was invaluable and improved my writing and research skills. During this time, I kept in touch with the potential supervisors I had previously connected with and continued searching for new possibilities.
"In 2020 Covid started spreading around the world. The pandemic resulted in border closures and universities were reluctant to accept international research students. I was worried and frustrated but I continued trying. I finally received a PhD offer in 2021 and, six months later, a scholarship offer. I was on cloud nine as I had been waiting for this moment for almost three years. The Australian borders finally opened in 2022 and I started my Ph.D. journey in person.
"I am now six months in and it is a rewarding and, at the same time, a challenging experience. Being independent helps you trust yourself and become more disciplined. It also, however, means you might sometimes feel confused, isolated, and unstructured. In the beginning, everything is unclear, and the ideas are messy. You learn to tolerate this uncertainty and leave it to time so the picture becomes clearer. During this journey, you have the support of your supervisors, and I have set fixed fortnightly meetings with them.
"I also try to keep my research skills up to date by participating in related workshops offered by the university. Melbourne makes a great effort in holding social events for students. I am impressed by the number of events they have held. Although as a research student it can be hard to find the time to attend all these events, I try to participate in as many as possible. It has been through these that I have made new friends, which is valuable social support during this journey.
"For me, the PhD journey is like sailing in the sea. You start the journey with almost no equipment or direction. All you have are the books of past sailors and papers (literature) and the stars in the sky (supervisors) that lead you the way. The waves are the challenges you face. It may damage your boat, but you start learning to fix it and little by little you build a ship out of your boat."
Sara's tips:
Do proper research about potential supervisors before you contact them (read about their research interests, papers, and current projects) and write a personalised email specifying why your research interests align.
Create a document and record all necessary information about potential supervisors so you can access it easily.
Supervisors have busy schedules, so send a follow-up email in two weeks, but if you didn't receive a response move on.