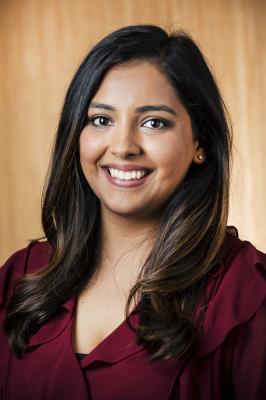 Shruti is studying the Monash University MBA
"I had always planned to do my MBA five years into my career, ideally abroad. I choose Australia as I noticed a number of key players in my industry were looking to expand into the Asia-Pacific. Having knowledge about the Australian market and industry would therefore be a huge bonus when looking for future employment. Initially, I was overwhelmed with the number of options and universities in Australia so set up a meeting with Stefan at Study Options who discussed the best options for me in terms of universities as well as other courses. He sent me a list of options and I began my research. There were three things I considered when making a decision about where to apply: The location, the university reputation, and the course structure.
The application process itself was fairly straightforward, though it can take a while as you are waiting for responses from universities or chasing references. Study Options were very helpful, from the beginning by giving me advice on which universities to look at, to the end by sending over relevant information about where to open a bank account and everything in between. I really cannot fault the service provided by Study Options.
"I arrived to Melbourne on February 11 and spent the first couple of weeks getting my phone, bank account, and university registration set up as well as exploring the city. I started university on the 27th, it was very exciting but intimidating!
"I feel I have settled into my new life in Australia. There were two main things that helped with this: Ensuring my house was correctly set up in terms of the house itself as well as bills and internet. This helped created a nice place to go back to and a sense of comfort. Secondly, being in a small cohort of 55 students made it easier to make friends and become familiar to everyone. I found it easier to create bonds with people as we were seeing each other all the time rather than in only some lectures.
"The course is very interesting, it has practical applications built in which makes understand and absorbing the theory that much easier. It is very time intensive, however, and you need good time management skills to complete all the tasks, assignments, and readings. The academic staff are easy to talk to and are all very supportive. They also have great initiatives such as the Career Advancement Program that really supports your future development.
"The Caulfield campus at Monash is quite small and there are a limited number of clubs and societies here., though there is a gym on-site and a few places to eat. However, the main Clayton Campus is huge and has a lot more facilities, including a cinema, restaurants etc.
"Melbourne is a great place with lots to explore. I am usually networking, working on my career advancement targets, exploring Melbourne or hanging out with friends. We do lots of activities together as there is always something new going on in Melbourne.
"What advice would I give to a student thinking of studying in Australia or New Zealand? Make sure you research the area you are going to be in, it might be worthwhile getting a place slightly further out and travelling into university, for example. Also, finding accommodation can be tough for international students but the universities have a really strong support team. Make sure you utilise all the support the university provides for international students – it can make settling into a new place a lot easier."