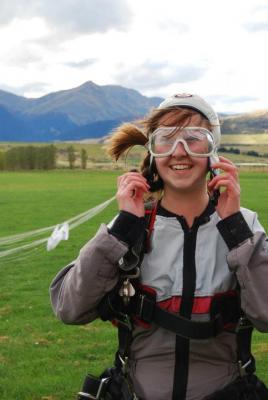 Stef is from Jersey in the Channel Islands. She started studying at the University of Otago in February 2012
"Living in the Channel Islands, I always knew I would have to study abroad. England was the obvious choice but after going to a higher education fair, I realized how many more options there were and that becoming an international student wasn't nearly as difficult as I'd first imagined! After a lot of prospectus browsing, I finally decided on New Zealand. This was a relatively easy choice to make due to the similar education system and the fact I'd always dreamed of travelling there. I got hold of Study Options who whisked me through the application and visa process with ease. After a fair bit of paperwork and lots of emails, just a few months later, here I am at the University of Otago.
"One semester in and I can't get over how comfortable I am here! Within just a few weeks I was happy to call Dunedin home. I opted to live in Otago University flats (as opposed to halls of residence) as you have a bit more freedom. I live with other international students from across the world and each flat has a Kiwi host – a local student who is there to help you find your feet. I think this is a great option for students who are new to the area, wanting their own space but to still be surrounded by the student culture. Although Dunedin has a student population of 25,000, so it's actually difficult to avoid student culture!
"There is always something to do with so many students about. The university has a great selection of clubs and activities from tramping and kayaking to dancing and knitting. Clubs are a great way to meet people by continuing a hobby or taking up something new. Many of them run organized trips to places around the South Island but it's just as easy to get around yourself. Buses run from Dunedin to nearby cities like Queenstown and Christchurch for a pretty decent price, and standby flights offer a cheap way to travel if you want to go that bit further or to get up to the North Island.
"Without getting away at all, though, there is plenty to do in Dunedin. The Cadbury's chocolate factory, Speight's brewery and Otago Peninsula (complete with beaches, penguins and sea lions!) are the main tourist attractions and are all easy to get to and from. Nightlife is a huge part of student life in Dunedin, with many students taking part in the famed O-Week celebrations and events such as Hyde Street which occur throughout the year. Most weekends a decent party can be found by simply following the music!
"When it actually comes to study, the classes are great. I can access all my lecture slides online as well as via podcasts. The labs are equipped with loads of technology similar to that of a CSI lab! There is also plenty of help at hand when needed, through study groups or one-on-one tutor sessions, so it's hard to get behind.
"I took full advantage of this support and my fairly flexible timetable, so have been lucky enough to see a fair bit of the South Island already between classes. I've spent quite a lot of time in the adrenaline fuelled Queenstown, which is only a four hour drive away – the perfect weekend getaway! I still can't believe some of the activities I have managed to do while studying in New Zealand! Definitely one of the best decisions I have ever made and I'd urge anyone to make the same jump!"