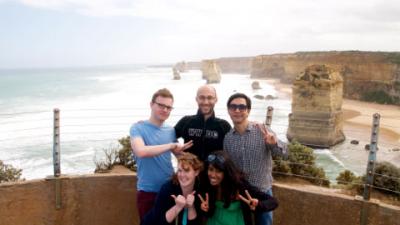 Studied a Masters of Public Health at the University of Melbourne
My name is Anita and I am from London. I am currently living in Melbourne, Australia while studying towards my Masters of Public Health (MPH) at the University of Melbourne. I have to say that I am grateful for and love every moment of this experience. You may be asking – how did you end up in Australia? (A common question faced here when meeting new people intrigued by my accent) I decided after completing my undergraduate degree in biomedical sciences at Aston University in Birmingham that I really wanted to pursue a Masters degree abroad. I have always had a keen interest in travelling through volunteer experiences abroad and family vacations. I first came to Australia on a family holiday and have wanted to come back ever since and decided it would be an ideal location for me to study in.
I am currently in my final semester of my Masters of Public Health and have specialised in epidemiology and biostatistics. I am also pursuing my passion of global health through my a research project with the Nossal Institute of Global Health examining the social factors associated with polio eradication in the three remaining endemic countries; Afghanistan, Nigeria and Pakistan. I am thoroughly enjoying my research project and have been provided with great support from my supervisor with his wealth of knowledge of the area. In regards to the differences between studying in Australia compared to UK, I admire the layout of the timetable here, whereby we concentrate and complete four subjects per semester as opposed to my experience in UK where all subjects are on going throughout the year. This allows a greater focus on the four subjects and we are also provided with tutorials for each subject to enhance the lecture material. I have found the staff and lecturers on my course are very friendly, easy to approach and provide valuable support.
Outside of my studies, I enjoy keeping fit and I have been influenced by the very active lives of Melbournians, who are always exercising regardless of the weather (10°C or 40°C). I admire the outdoors culture and jogging through the beautiful parks close by with my friends. I also enjoy taking part in the many aerobics and cardio box classes held at the university gym. In addition, a large amount of time outside of studying has been spent exploring the vibrant city of Melbourne. I have to say there is a reason why Melbourne has been ranked first as the world's "most liveable city" in 2013. I don't think I will ever get bored of this city, as there is always something to do! It is possible to 'lose yourself' with the many hidden laneways sporting tiny cafes and hidden bars. We have found some of the best hangouts in the most hidden away spots and hidden bars. There's always something to do and discover with the many on going festivals throughout the year.
Studying abroad has definitely been an experience, living in a new place, making new friends and learning the university system. I found Study Options provided great support to me throughout the entire application process and organised a meeting with a University representative who helped make my decision easier. Through the meeting, I was recommended to apply to live at one of the colleges at University of Melbourne, Queen's College. I found staying at the college an unforgettable experience; it was a great way to meet friends and helped me settle into my new life abroad easily. We had many formal dinners, graduate and inter-collegiate events held at college so my social life was always active. I am now living in an apartment in the city with a good Australian friend from my course, which I am thoroughly enjoying now that I am more settled.
I am enjoying being a student oversees immensely and take the opportunities to go travelling when I can. I have explored much of the surroundings of Melbourne such as Great Ocean Road, Phillip Island, Sorrento, Yarra Valley and Mornington Peninsula, which are all to be recommended. I was able to save up and travel the North and South Islands of New Zealand in January during our holiday from university, which was an enthralling experience. I loved the adventurousness of New Zealand with all the cave abseiling, glacier walking, bungee jumping and canyon swinging (just to name a few). I am looking forward to some more backpacking along the East coast of Australia hopefully once I graduate at the end of the year.
All in all, I have had an unforgettable experience so far and look forward to the many adventures to come following graduation. I want to say thanks again to Study Options for their help as they definitely made the application process easier and helped me reach one step closer to studying out in Australia!