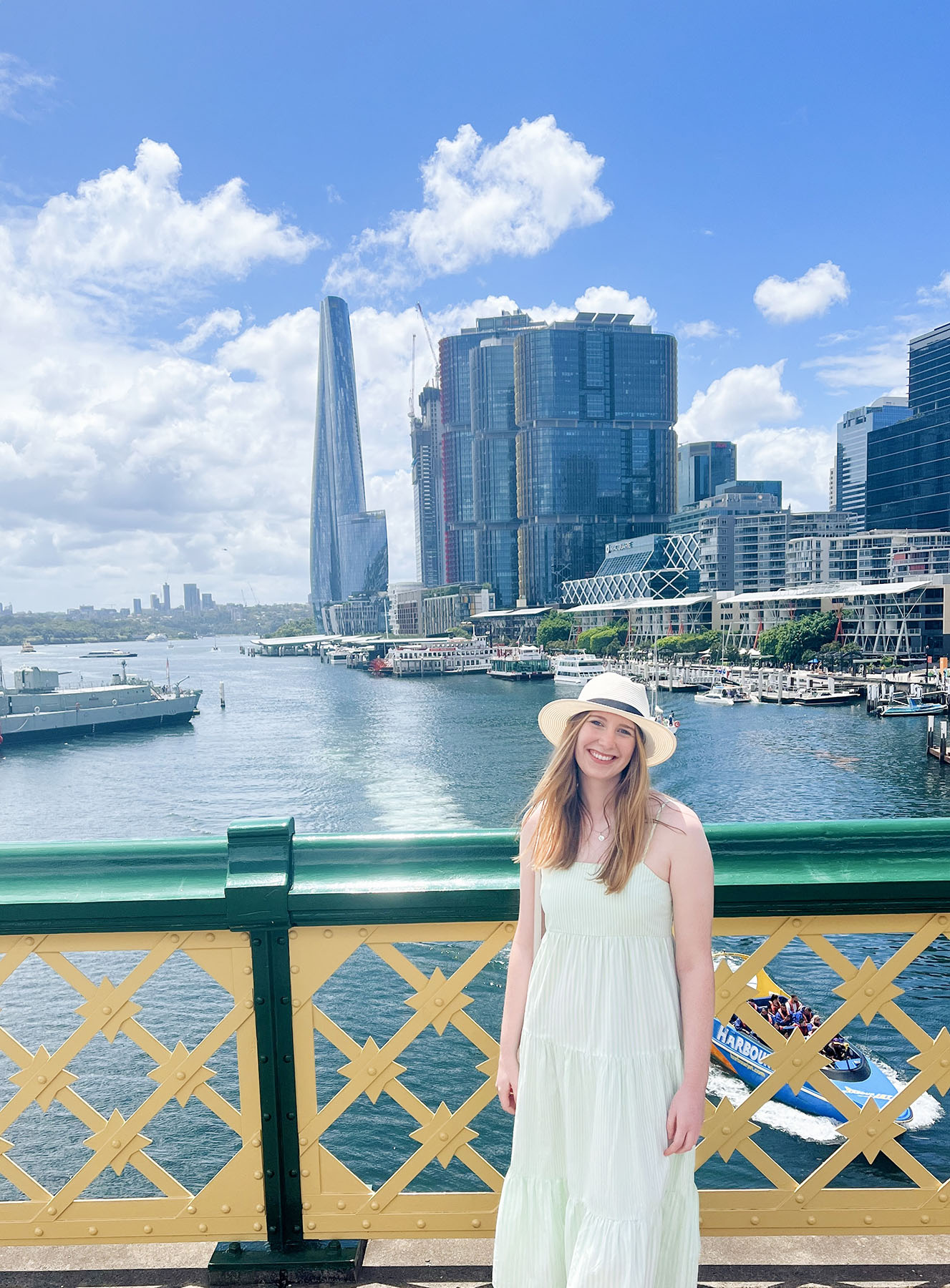 Ellie Farenden moved to Australia in 2021 to study a masters by research at the University of Queensland
"I completed my undergraduate degree in Global Health and Social Medicine at King's College London in 2019. As part of this degree, I studied abroad in Baltimore in the United States and had an amazing time, which was part of the reason I started looking at completing my Masters degree abroad.
"After finishing my undergraduate degree, I did a 2-month road trip down the east coast of Australia, from Cairns to Melbourne. I was surprised at how much I loved the Australian lifestyle, and this really piqued my interest in studying over here. I had been keeping an eye on potential postgraduate research opportunities, and found a scholarship available for an MPhil student at the Centre for Health Services Research at the University of Queensland. This work involved joining an existing project which was evaluating a new model of care for people with Type 2 diabetes using remote patient monitoring.
"I had had an interest in chronic condition prevention and management, and digital health, during my undergraduate degree and my time working in NHS project management, so I got in touch with the team at UQ to find out more. Once I sent in my CV, a writing sample, and had an interview over Zoom, I was offered the scholarship which covers my tuition fees and provides a living stipend. Of course, COVID then hit and put everything on hold, but after a long wait due to border closures, having to get permission from the government to enter the country, and two weeks of hotel quarantine, I finally landed in Brisbane in September 2021.
"It took a little while to get up to speed with the project, and the first few months consisted of a lot of reading, so I took this opportunity to complete some online courses to prepare me for my research. I have recently completed my confirmation milestone by completing a literature review and research proposal, along with a panel-assessed presentation. I'm looking forward to now getting started with my data collection. My research involves evaluating the perspectives of patients, healthcare professionals and executives involved in the new model of care which makes use of a Bluetooth enabled glucose meter connected to an app, which reports information back to the care team for feedback. Day-to-day my work is very self-directed; I am in touch with my supervisors regularly but able to take the lead on preparation for my research. This also means I can be quite flexible with where I work – I am often in the hospital where my research is taking place, but I also love working at UQ's St Lucia campus or enjoying the river views at the State Library of Queensland when I can!
"In this latest semester, I also took on a role as a tutor for one of the medical school courses at UQ, which was a great opportunity to expand my skills in teaching and marking, as well as meeting a great team of other researchers who I likely would not have met otherwise. This worked out as a great way for me to supplement my income along with the scholarship living stipend whilst also boosting my academic experience for my CV.
"I'm really enjoying living in Brisbane, it feels like a big city without being too busy, and of course there are so many amazing places around Queensland that are great for a weekend trip. I've also been able to get over to Sydney and South Australia since arriving, and am keen to do some more travelling in Australia soon! The team at Study Options were so helpful throughout my experience and were always available to answer my many questions about paperwork and visas. I would really recommend that anyone interested in studying in Australia or New Zealand gets in touch with them to find out what opportunities are out there for you!"