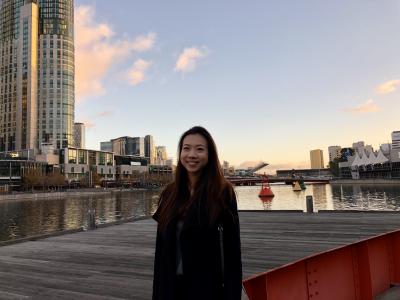 Studying a Master of Dietetics at Deakin University, Melbourne
"There aren't a lot of universities that offer the course I wanted to study and it is very competitive. I was very glad that Study Options helped me all the way from making applications to paying deposits, to applying for my visa, and getting all my documents ready before moving abroad. I chose Deakin University as it was recommended by one of my lecturers back in the UK, and I was very happy indeed when I received an offer!
"When I first arrived Melbourne, I thought it felt a bit like London (where I used to study) with lots and lots of people and cars! I have chosen to live in a student accommodation and I cannot recommend this highly enough. It has helped me with settling in, as everyone in the building is a student, so you definitely make friends and build connections while living there.
"Melbourne is such a vibrant city and there is always something to explore (the free tram helps a lot with this!) There are also a lot of cafes and restaurants, which I enjoy visiting and exploring when I have time. Overall, I am enjoying my student life in Melbourne and definitely enjoying the course. It is very practical and the teaching staff are very supportive. As this is a Master's degree, we are required to do a lot of independent work and research outside of lectures and tutorials. But after all, you've just got to work hard to get to where you want to be!"