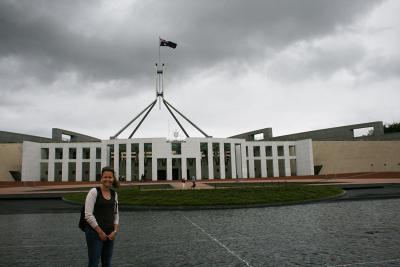 Josefine is studying a double masters degree in strategic studies and diplomacy at ANU
"After finishing my undergraduate degree in the UK, I initially thought I was going to do my master studies at home in Norway. But the combination of not finding a course I liked at home and attending an information session about studying in Australia and New Zealand, held by Study Options, made me change my mind. And I haven't regretted it once since!
"ANU was not only a highly recognised institution, it also gave me the opportunity to undertake a double masters degree in strategic studies and diplomacy. This meant I had the chance to gain a double degree in less time than two separate ones, while also allowing me to study two inter-related, but distinct fields in more depth.
"Australia has always been high up on my travel wish list, and the opportunity to stay over a longer period was highly attractive. Not only would it offer more time to get a feel for the country, it also promised more time to explore its Asia-Pacific neighbourhood. For someone that likes to travel this was almost to good to true! Australians are also very friendly and welcoming, so the transition was made easy.
"The process of apply to study on the other side of the world was made super-easy with the help of Study Options. Throughout the whole process I could always drop them an email, with all my weird, anxious, and double-checking questions, and get a quick and reassuring reply in return. This not only took away a lot of stress for me, it also ensured my application was 100% complete with all the required documentation and so on before being sent to the university. Study Options also contacted the university for me to check up the progress of my application, which meant the only thing I had to do was to try and be patient!"