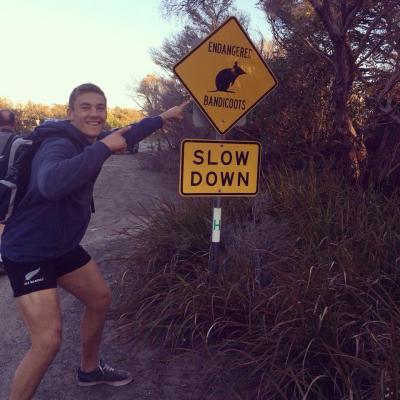 Josh is studying the Bachelor of Commerce at the University of Sydney. He is a Sports Rugby Scholar
"My decision to study abroad in Australia was a pretty last minute affair, and genuinely would not have been possible without direction and input from Study Options. I always wanted to travel in Australia and the idea of studying there added a freshness and new appeal to further education. After I had the idea, Study Options were massively helpful in answering questions, organising me to speak to the appropriate people at the universities and generally giving any information I needed.
"My main criteria for choosing a university were the strength and reputation of the university and what it could offer me in opportunities; the location and what its surroundings had to offer; and how much fun it all looked!
"The process of applying was easier than what I would have had to do to study in England. After providing the standard documents, like a personal statement and by A Level results, Study Options pretty much handled everything else after I had chosen the universities and courses I wanted to apply for. Compared to what I remember of all my friends complaining and moaning about UCAS, it seemed very straightforward.
"The Sydney University campus is about a 10-15 minute train from Sydney's CBD and close to two train stations and a heap of shops. Luckily I live in St Andrews College on campus, which couldn't be easier for getting to classes. The suburb next to campus, Newtown, is really fun and quirky, with loads of cheap and very good places to eat. Student life at Sydney is up there with the best – studying anywhere is fairly similar with regards to material, lectures but when you live in a place like Sydney the lifestyle is so much better. Coming from England, the weather is always nice, even in the winter, and you are never more than 25 minutes away from an awesome beach or National Park or all the ridiculous architecture Sydney has.
"One thing I'd recommend for any undergraduate student looking to go to university abroad is to live in a residential college. Luckily I got accepted into St Andrews, which is a great college and it has resulted in my meeting some really great people, making some life-long connections and always having me someone to talk to and mess around with. When you are the other side of the world away from your friends and family this definitely makes the distance a lot easier to cope with. As a result of being in college, when I'm not studying I'm out with mates at college socials, surfing at the beach, travelling around in and Sydney and playing rugby.
"My accommodation is like most other university residential places I would imagine, pretty basic but does the job. The difference in college is that you meet some awesome people and have an entire community around you for your whole degree if you wish. College has a massive range of things to participate in – sport, drama, clubs, and loads and loads of socials, and although it pains me to say it – Aussies can party!
"At the moment I am in the second semester of my first year studying a Bachelor of Commerce. We have some core modules in Commerce like accounting and stats, with a few elective modules, of which I'm currently doing Commercial Law and Economics. The compulsory modules are not great fun, but you have to do them anywhere you go – studying will become more fun when my degree progresses and I have more options to choose my courses.
"For commerce my contact hours are around 14 hours a week. Obviously part of university is learning how to study best for yourself and being productive on your own, which is the biggest change from school.
"Commerce wasn't something I have always wanted to do but it's something I had a pretty good interest in and has really good job prospects as a graduate, compared to most degrees. As previously stated, the biggest change from school is that you are no longer spoon-fed, and your success is utterly reliant on how disciplined and organised you are in your study, so once you get your head around that, you're sweet!
"Settling in was always going to be difficult being so far away from home, family and friends. Keeping busy and getting involved in things is what makes the process easier. The first weeks were pretty tough but after that you are fine really, the occasional down day but not other than that.
"Being able to travel around Sydney was one of the biggest pull factors for me in coming here, I've got the travelling bug and that's something I really enjoy. I was lucky enough that my parents could come out here for a holiday during my holidays. We based ourselves in Sydney and did all the tourist stuff there, like the Harbour Bridge, before going further afield. It was unreal to get around the place and see some of the places Australia has to offer. Places like the Blue Mountains are only an hour away from Sydney and are breath-taking, and then obviously there are places up the coast like the Great Barrier Reef and Frasier Island that speak for themselves.
"I was told about Study Options by my school when I enquired about studying abroad, and once I got in touch with them every question and detail was answered and organised, genuinely the process was really simple.
"Everyone I was in contact with at SO was really helpful, friendly and efficient – I'd recommend them to anyone looking to study abroad! The service was top banana and they are a cracking bunch of people.
'The process is made really easy for applicants using Study Options; you choose the courses you like and the universities you want to apply, print and fill out the application forms, hand them back to Study Options, then they take care of the difficult fiddly bits while you sit back and wait for the offers. The most difficult part is choosing where you want to study!"