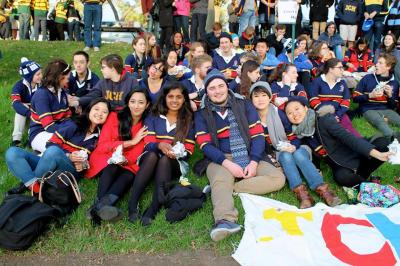 Lydia is studying a Bachelor of Science at the University of Melbourne. She started her course in February 2014
My name is Lydia Gonzales, aged 19. I am from East London. I am currently studying an undergraduate degree at the University of Melbourne. I live in a College which is a couple minutes' walk from the campus. Janet Clarke Hall is an amazing college to be living in, I was extremely lucky to live in such a close, small and family-like community where everyone is friendly and welcoming. I started the Bachelor of Science earlier this year, February 2014.
There were various reasons that made me want to move to Australia. One was the pathway option leading to being a graduate in medicine. The fact that the medical school at the university is No.1 in Australia really appealed to me. When meeting one of the representatives Rhett Miller, through Study Options, I learnt more about the Melbourne model, where doing an undergraduate course in the University of Melbourne opens up many postgraduate opportunities – in my case Medicine was always my goal.
I chose to study Biology, Calculus, Chemistry and Computing in my first semester. As a science student there are a lot of contact hours in comparison to other faculties. In my first semester most weeks consisted of 23 hours at university which included lectures, workshops, tutorials and labs. Each of my subjects had at least one mid-semester test. Every subject excluding chemistry had at least one assignment, chemistry had lab reports. These all counted towards our final grade which took the pressure off when doing the final exam at the end of the semester.
Melbourne is very multicultural and much like London, has a good night life, whether you're into clubbing, late night meals or just strolls around the parks, Melbourne has it all. I live near the university where tram stops are frequent and nearby. The public transport works really well (not many delays or strikes like in the UK). Melbourne is a lot like the UK when winter is in full swing, raining and windy (I was not prepared at all!). The city has plenty of restaurants and cafes around, so there are plenty of places for socialising and the coffee culture is huge here.
My student life has been amazing. There is so much to get involved with, plenty of clubs and societies within the university. Although I was jet lagged every day during O-Week, the week was jam packed with activities and you were encouraged to get to know people that you may not necessarily choose to talk to. In that first week at college I was able to establish friendships and possible lifelong friends. I experienced many new things in my first week; watching an AFL game; going on a tram; singing in a group to a total stranger; being part in a flash mob, and many other things.
When I'm not attending university or studying for an exam, I go to the gym which is great – it's one of the perks of going to a college, the free gym membership. I also go out with mates to music gigs and attend intercollegiate events for example the rowing regatta which gets very competitive.
I would say that the balance between work and play is at its optimum in Melbourne. It's easy to find something else to do when things get stressful with university work.
I did underestimate the challenge of moving to another country, as probably my other family members did too. Living in just one room and having to deal with total strangers when you first move in was daunting, however, living in a college made the transition of not living with my family much easier. Once I overcame the initial nervous feelings, I started to enjoy that opportunities that were presented to me. Studying abroad has broadened my view on life already, getting the chance to learn about difference parts of Australia and other countries – just from the students that I have met at the university. It's exciting to be in a new country and city, the ability to explore thrills me. I find myself wandering around the city finding new shops and lanes to go down, Melbourne is a place that I thoroughly enjoy getting lost in.
I haven't been lucky enough to travel a lot within Australia, my workload is quite heavy so I've kept my travel local. However, there are plans of a road trip with some mates at the end of semester two.
I would not be in my first year at the University of Melbourne if it weren't for the amazing people at Study Options. I was lucky to come across their website whilst researching universities overseas and enquired about the services they offer. I was lucky to have a great adviser, I was unsure about so many things and there were a lot of emails sent from my end, yet I always received an email the next working day with plenty of information. The process was completely simplified and smooth with the help of my adviser. They even helped me by sending links to various accommodation options and the visa application process, it didn't just stop with the application to the university.
Overall I am so grateful that I was given the opportunity to move to Australia to study!!!